A bus accident can lead to serious, catastrophic, or fatal injuries. The accident may be a collision between two vehicles, an overturn, or other dangerous crash that results in injuries. The injured party may have been a passenger, another motorist, a pedestrian, motorcyclist, or bicyclist. When a bus accident has caused serious injuries, justice and full compensation can be pursued by filing a personal injury claim or lawsuit.
Types of bus accidents
A bus accident may be associated with the following types of buses, including but not limited to:
School bus
Fairfax Connector bus
Private bus
Church bus
Tourist bus
Passenger van
Shuttle bus
Causes of bus accidents in Fairfax
In some very serious bus accidents, the following causes were identified:
Driver distraction (texting, talking on phone, etc.)
Driver error (fatigued drivers making poor decisions, unsafe driving conduct)
Negligent driving conduct
Defective bus equipment (brakes, tires, etc.)
Negligent driving conduct (speeding, illegal turns, driving too fast for weather conditions, etc.)
Faulty bus design (center of gravity far too high, leading to the risk of a rollover)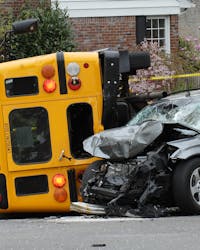 A recent Virginia DMV report reveals some of the most common bus driver actions that led to a bus accident:
Improper lane change
Failure to yield
Following too close
Improper turns
If you or a loved one has been injured or died in a bus accident, it is advised that you engage legal representation immediately. Many of these cases involve filing a claim against a city, county, or state agency, which allows minimal time in which to file an injury claim.
If you fail to file your claim within these time restrictions, you are barred from seeking compensation. A lawsuit against the state must be filed within 18 months of submitting a written "notice of claim," which must be submitted within six months of the incident.
The complexity of these cases, along with filing deadlines, requires assistance from a Fairfax bus accident lawyer. We urge you to choose a lawyer who is deeply familiar with the time restrictions and will manage your case correctly – and who has a long track record of success, as you will find at Rodriguez Law Firm.
Bus accident statistics:
The frightening truth
In Virginia, bus accidents occur far more frequently than you may realize. The Virginia DMV issues a yearly report, which reveals the statistics for the state in a recent year, as follows:
4 fatal accidents
209 injury accidents
2 passengers killed
75 drivers injured
301 passengers injured
66 passengers suffered serious injuries
Common bus accident injuries
The most common bus accident injuries include:
Head injuries
Brain injuries (TBI)
Spinal cord injuries
Back injuries
Severed limbs
Broken bones
Internal injuries
Severe burns
Whiplash
Sprains, strains, torn ligaments
Who is liable?
Every bus accident has unique facts, and determining the liable parties will require an investigation into the accident. The responsible parties could be another driver, the bus driver, bus company, bus manufacturer, parts manufacturer, or a combination of parties.
Why choose Rodriguez Law Firm?
You may be suffering the consequences of a bus accident and are unsure where to turn for help. At Rodriguez Law Firm, you can expect priority treatment. We offer personalized service and can refer you to medical practitioners for treatment if needed. Our team of trial lawyers has achieved an impressive track record. We believe our remarkable results reflect our commitment to the people we serve, and we invite you to contact us to discuss your case in a no-cost initial consultation. Call now.