Any vehicle collision can cause serious or fatal injuries, but few crashes are more deadly than those involving large commercial trucks. Truck drivers that operate big rigs or semi-trucks are legally required to follow a comprehensive set of regulations for the protection of others that share the highways, streets, and roads. Unfortunately, violations are common, whether in hours of service, speed of operation, drug or alcohol consumption, a failure to inspect and maintain the truck, and an array of other violations.
Common causes of truck accidents
The FMCSA (Federal Motor Carrier Safety Administration) lists the most common causes of truck accidents in Fairfax, VA, and beyond. The factors identified by the agency include:
Brake problems
Speed too high for road or weather conditions
A driver taking over-the-counter medications
Illegal driving maneuvers
Driver fatigue
Driver under pressure to deliver a load
Illness
Following too close
Unevenly loaded truck (jackknife)
Driver inattentive
Driver distracted
Tire problems
Illegal drug use
Alcohol impairment
Driver unfamiliar with the area
Injured in a truck accident?
This type of case is typically very challenging and complex, which is why it is critical to ensure you have counsel from an experienced truck accident attorney serving in Northern Virginia. The Rodriguez Law Firm has years of experience helping truck accident victims recover the compensation they deserve and fights hard to achieve the best possible outcome. We offer a free, no-obligation consultation and case analysis, and our truck accident cases are taken on a contingency-fee-basis – no legal fees are due unless we achieve a settlement or a favorable result in court.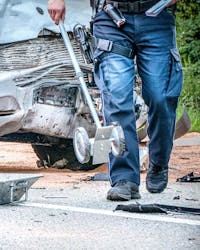 Who is liable?
Determining who is legally responsible can be a long and involved process. The accident investigation is conducted by local law enforcement and federal investigators from the NTSB (National Transportation Safety Board).
The analysis will include a full evaluation of the accident scene, the truck itself, and reviewing "black box" data. This unit tracks how long the driver has been operating the truck, as well as speed and other vital information. After the investigation is complete, one or more of the following parties may be found liable in a truck accident:
The truck driver
The trucking company
The truck maintenance crew
The firm that loaded the truck
Truck manufacturer
Truck parts manufacturer
Truck accidents in Fairfax are typically the fault of the truck driver, but proving the case will require intimate knowledge and experience in personal injury law. Trucking companies are protected with comprehensive insurance policies, but their defense lawyers engage in tactics in an effort to reduce the value of your claim. You should never accept the first settlement offer – and neither at Rodriguez Law Firm, we are well aware of the tactics that may be employed to reduce a settlement – and we fight back.